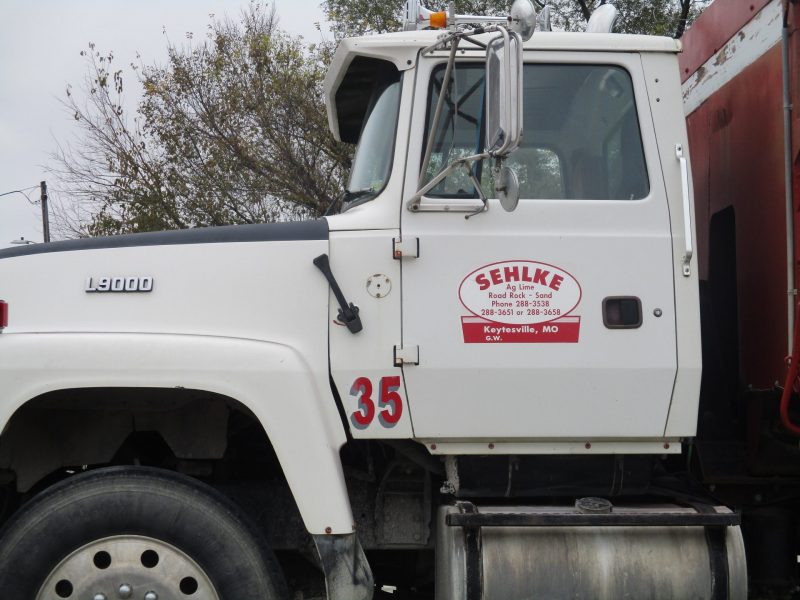 The Keytesville Chamber of Commerce has selected Sehlke trucking as the September Business of the Month. Sehlke Trucking Inc. of Keytesville was first started by Ezra Sehlke in 1947 after his return from Germany and World War II. He and his father, Edwin Sehlke, purchased a couple of lime trucks and hauled lime for customers in the surrounding area. Later, Ezra purchased two dump trucks and two stock trailers and he began hauling both rock and livestock. Local drivers hired in the beginning included Udel Hayes and Adolph Divosky. Together, they transported livestock to as far away as St. Joseph, St. Louis, and Kansas City. The dump trucks began a family tradition of hauling for local customers. Ezra's wife, Ruth, became the bookkeeper for the company.
The Sehlke family moved to Keytesville around 1957 where they set up business on a lot west of the post office on Bridge Street. Later, Sehlke added the lot south of Bridge Street, and the company's business has remained there for over 70 years. Although he always worked for Sehlke Trucking on the weekends, Terry Sehlke, joined the business full-time around 1970.
Next, Ez Sehlke, along with Warren Faris, JT Rutledge, and Leo Maag began a business called Chariton County Contractors. They set up sand plants along the Grand and Missouri Rivers near the cities of Brunswick, Carrollton and Lexington. They hauled sand to various contractors including the Associated Electric power plant for use when the dam was being built for the reservoir.
Several years later, Chariton County Contractors sold out to Green Quarries but Sehlke Trucking continued to haul rock and spread lime. Generally, they worked two and three trucks at a time. Some of the local drivers included with Sehlke were John Lewis, Bob Beaver, Bobby Joe Friesz, Wille Brown, and Herbert (Tickey) Richardson.
In 2010, Michael Sehlke joined Terry to continue as the third generation in the trucking business. Michael attended Linn Tech and upon graduation worked at Crown Power in Salisbury. Later, he began working for the family business. He is married to the Dawn (Guilford) Sehlke formerly of Salisbury, and they have two children: Madelyn and Phillip.
Terry states, "I am proud to have Michael in the truck next to me carrying on this trucking tradition for a third generation. One goal of our business is to provide quality product and service to the loyal customers who have supported us over the years and hopefully into the future." In addition to customer rock, Sehlke Trucking also hauls township rock in the area.
Terry's wife, Cecelia, a retired teacher from the Keytesville R-3 School District is the bookkeeper for the business. The Sehlke's other son, Darin, is Activities Director at Oak Grove High School. He and his wife Haley live in Oak Grove.