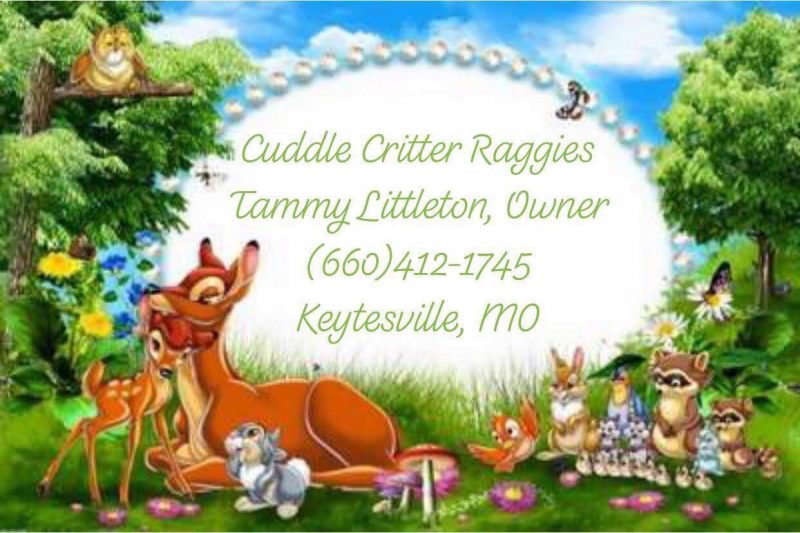 The Keytesville Chamber of Commerce would like to congratulate the business Cuddle Critter Raggies on being selected as the June business of the month. Cuddle Critter Raggies is a fantastic business that crafts kids' items. It is owned and operated by Tammy Littleton of Keytesville.
Tammy works from her home crafting room making four different size "Raggies", pocket reading pillows, rag pillows, memory pillows, travel and regular pillow cases, bibs for adults and children, super hero capes, bowl koozies, and warm hugs (rice bags). What is the signature item, a "Raggie" you ask? It's a rag quilt blanket with a stuffed animal attached to it, bringing together two things most children love to carry around!
Tammy first got the idea for a "Raggie" when she was looking for a baby shower gift. She wanted something that was different, could be cuddled with, and could be used to keep a child warm. She had seen blankets with stuffed animals attached, so she decided to create her signature product using a rag quilt. The rag quilt gave it a different type of texture that a young child or baby would really enjoy playing with. Thus, the Cuddle Critter Raggie was born.
Each "Raggie" takes between 3 and 12 hours to complete depending upon the size chosen. Tammy has sold her products via craft shows, Facebook, Etsy, and word of mouth and they have traveled many different places. She has shipped all over the United States from California to New York and Texas to North Dakota. She has even had one travel to a little girl in Australia!
Besides selling her "Raggies", Tammy has donated many to various benefits and sent many to sick children as well. Tammy does this as a way of paying it forward from when people donated to benefits and sent things to Josh and Jacob (two of her three sons) whenever they spent time in Children's Mercy Hospital. They loved receiving gifts during that time and she hopes her "Raggies" do the same for other people. As to her "favorite" creation, she says she doesn't really have an all-time favorite, however, she really liked one she donated to a cancer benefit. This particular "Raggie" was the first youth-sized one. It had a cow wearing a bandana as the attached stuffed animal.
As to her favorite part of the creation process, Tammy says she really enjoys picking out the stuffed animals and corresponding material, however, "the most rewarding part is when people send me pictures of their little ones with my Raggie". The Keytesville Chamber of Commerce would like to wish Tammy and Cuddle Critter Raggies a hearty congratulations for being the June business of the month!