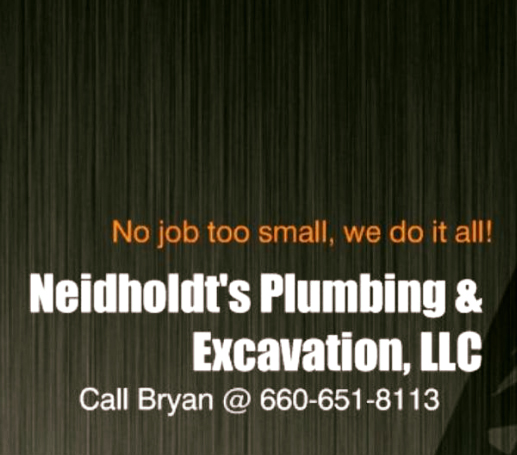 The Keytesville Chamber of Commerce has chosen Neidholdt's Plumbing and Excavation, LLC as the November Business of the Month. Neidholdt's Plumbing and Excavation, LLC is owned and operated by Bryan Neidholdt, along with his wife, Angie Neidholdt. They have three children, Kiera, Blake, and Emitt.
Bryan officially opened his business in March 2019 to primarily serve the Chariton County area. Bryan offers many services including repairing water leaks on pumps, faucets, and water lines. He also replaces and installs hot water heaters and water and sewer lines. Bryan has a sewer camera that enables him to many times diagnose a person's particular problem before he has to tear a yard apart; many of his pieces of equipment assist him in clearing lines in these instances. However, if he does need to dig up a particular line, he has the excavation equipment to do that and also dig the hole for a septic tank install.
Bryan is a dealer for Cobett Earth-heated cattle waterers and can assist with ordering and installing those for his agricultural customers. As if all of these things don't keep him busy enough, he is often willing to do other odd jobs as requested.
Bryan makes it a point to be as 24/7 accessible as possible. He realizes that plumbing problems don't just happen during "business hours" and only on weekdays. His goal is to work as quickly and efficiently as possible and to make emergency calls a priority.
Bryan went into the plumbing business because he wanted to support his local community. He felt like there was a need for the skillset he possessed. He also enjoys helping people and working with the public. He is most proud of this and the fact that him being self-employed allows him to teach his children a trade. Bryan states that he would really like to see the local communities grow and more small businesses open up in the area.
The Keytesville Chamber of Commerce agrees and would like to offer our congratulations to Neidholdt's Plumbing and Excavation, LLC for being this month's business of the month.